Diamond Yatzy
Diamond Yatzy is a game for two players. Each round, the player is shown three sets of five jewels. The objective of the round is to collect as many like jewels as possible or form particular combinations. These combinations, such as Street, Full House and Yatzy, have an extra special value when entered into the "shopping list".

The objective of the game is to achieve the highest total value in the shopping list as possible. The displayed collection of jewels must be entered into the shopping list by the third set at the latest. During the game, jewels can be exchanged three times by using the joker. It is also possible to cancel out some of the field in the shopping list.

The winner of the game is the player that combines the jewels the best and has the highest shopping list value at the end of the game.

Diamond Yatzy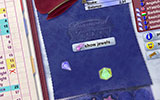 Category:

Board Games

Players:

2

Duration:

~ 8 min.