Jass
Jass is played with 36 cards in 4 suits. Each card in the suit has a different value. You can choose between the game versions Differenzler and Schieber. The game can be played with a Swiss, German or French deck of cards.

The order of play sees the forehand lay a card, before the next players take turns in laying cards and taking tricks. The player to take the trick plays the next card to continue the round. The players must follow suit only when the suit laid is Hearts.

The game is over as soon as a player reaches the agreed point total.
Jass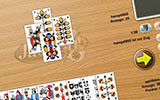 Category:

Card Games

Players:

2 - 4

Duration:

~ 22 min.