Gin Rummy
In Gin Rummy, each player receives 10 cards out of a deck of 52. Players take turns drawing a card from a pile and then discarding a card. Aces are worth 1 point; Jacks, Queens and Kings are each worth ten. The other cards are worth their face value. Once the sum of the remaining cards equals ten or less, a player can put down their cards ("knock"). If a player can put down all their cards at once, he/she wins a "Gin" and 25 points.

The aim of the game is to form 'groups' of the same kinds of cards or 'straights' of the same suit in order to be able to "knock". A player has to watch what cards he/she discards and what cards the opponent selects. The player with the least remaining points after laying wins the round, whereby the difference in remaining points is used for scoring. The first player to win the number of points determined at the beginning wins the game.

Before the start of the game, the players agree how many points to play for (50, 100 or 200). One variant of the game is "Oklahoma Gin".

Gin Rummy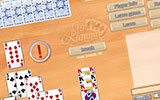 Category:

Card Games

Players:

2

Duration:

~ 12 min.