Sheepshead
Sheepshead is a four player card game. It can be played with either 32 or 24 cards. When it is the player's turn to call, the player can declare Sauspiele (partner) or solo play.

The player with the highest card takes the lead. Before the second card is in play, a player may announce a counter. The leader may answer with a re-counter. Then the cards are played. The last trick may be seen by all players.

Players have to play the lead suit or trump card if they have it. When this is impossible, another suite may be used. During partner mode the Ace of a declared suite must always be played the first time that suite has been called.

The team with 61 to 90 points wins. If there is a tie, then the team with the leader loses. The respective team with 91 points or above wins a "schneider." The team without the leader needs only 90 points to win a "schneider." If a team wins all 8 tricks, they win a "schwarz."
Sheepshead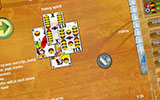 Type:

Card Games

Players:

2 - 4

Duration:

~ 2 min.