Jolly
Jolly is a card game for two to four players. At the start of the game, each player receives 13 cards. The aim of the game is to form combinations with the hand cards and score as many points as possible when laying them. The combinations can be either groups or sequences of cards.

The game includes Jokers, whereby the Jokers can take the place of any card in a combination.

The order of the game is as follows: a player takes a card from the deck then lays a group or sequence before discarding a card. The first group or sequence to be laid must have a value of 40 points or more. Later in the game, cards may also be taken from the discard pile. In total, however, a player may not hold more than 20 cards at any time.

The winner is the player who lays all of his/her cards first. A "Jolly Hand" is achieved when a player lays all of his/her cards in one go before laying previously.
Jolly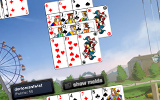 Type:

Card Games

Players:

2 - 4

Duration:

~ 11 min.