President
President has become a popular card game in many western countries. The aim of the game is to discard all of your cards before any other player in order to become the President!

Players take turns in laying a card from their hand. The player who starts the trick may decide whether he/she lays a single card or multiple cards (of the same face value). If they are unable to play a card of higher value than the card at the top of the trick (or multiples of higher value, in the case of a 'multiples' round set by the President), the following players may pass. Once all of the players have played a card or passed, the player who played the highest card wins the trick and initiates the next trick.

As soon as a player has exhausted their hand, he/she will be given the highest remaining office. The first player to finish is titled President, the second Vice President and so on. The last player is dubbed Beggar.

The round comes to an end when the second to last player disposes of his/her last card, whereby all titles, from President to Beggar have been issued. The player who is titled President in the final round of play wins the game.

Detailed instructions can be found under game instructions!
President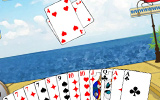 Category:

Card Games

Players:

4

Duration:

~ 13 min.