Skat
Skat is a game for three players. It is played with 32 cards. Three times ten cards are dealt, while two cards lie face down on the table. "Bidding" is used to find a Soloist. The score of a game results from the number of Trumps in a row, calling special games, etc.

The object of the game is to win as many points as possible by taking tricks, except in the case of a Null game, in which the object is to lose all tricks. If the game score does not total up the score bid, then the Soloist loses the game. In a simple game 61 points are needed to win, for "Schneider" you need 90 and for "Schwarz" you have to win all the tricks.

Players have to agree on the stakes before the start of the game. The participants then play three rounds. An additional table is displayed to assist in bidding.


Skat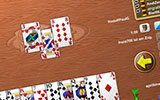 Category:

Card Games

Players:

2 - 3

Duration:

~ 2 min.