8-Ball Pool
In 8-Ball Billiards, there are seven solid and seven striped balls, as well as one white and one black ball. To start the game, players aim the white ball at any coloured ball, in attempt to sink one in a pocket. When a player sinks a solid coloured ball, the solid set becomes his for the rest of the game and his/her opponent receives the other (striped) set and vice versa. The aim of the game is to sink all coloured balls in a set, followed by the black 8 ball.

Should a player sink the black 8 ball before sinking all balls in his set, the player, he/she automatically forfeits the games and his/her opponent is declared the winner.

A player can commit a foul by either;
Playing a ball from the opponent's set.
Not playing one of their own balls.
Sinking the white ball.
After a foul has been committed, the opponent is allowed to position the white ball anywhere on the table.
The mouse is used to aim the white ball at the coloured balls. As soon as the white ball is touched, an arrow appears, which shows both the direction and strength of the strike.
8-Ball Pool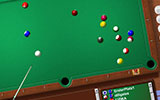 Category:

Sports Games

Players:

2

Duration:

~ 6 min.