Sheepshead
Sheepshead is a card game for four players. It can be played with a deck of either 32 or 24 cards. During the bidding ahead of the game, a 'Sauspiele' (partner hand) or lone hand are possible.
The player with the highest bid becomes the playmaker. Before the 2nd card is played in the game, 'contra' can be called. In turn, this can be countered with a call of 're-contra' by the playmaker. The cards are then played. The last trick won can be seen by all of the players.
The players must follow suit or play a trump. If this is not possible another suit may be played. In a partner game the called Ace must always be played as soon as the called suit is played for the first time.
The first team to reach between 61 and 90 points wins. If the points are level, the team with the playmaker loses. If a team reaches or exceeds 91 points, this is said to be a 'Schneider'. The team without the playmaker needs only 90 points to win a 'Schneider'. If one team wins all 8 tricks, this is called winning a 'Schwarz'.
Sheepshead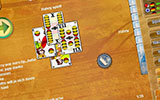 Category:

Card Games

Players:

2 - 4

Duration:

~ 2 min.