Backgammon
The game board in Backgammon consists of four quadrants, divided into six positions. Each player receives 15 stones, which are moved in opposite directions into the home quadrants and borne off. It is possible to knock out individual stones.

The object of the game is to bring one's own stones into the home quadrant as quickly as possible. Once all the checkers are there, they are borne off.

One special feature of Backgammon is the doubling cube for raising the stakes. The opponent can accept, re-double or pass, which means conceding the game.

Backgammon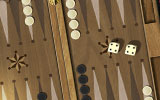 Category:

Board Games

Players:

2

Duration:

~ 5 min.