Mus
Mus is a card game for 4 players and it is played with 40 Spanish cards. In the game, all 3s count as Kings and all Aces count as 2s. Therefore in Mus there are 8 Kings and 8 Aces in total.

At the beginning of the game the players are split into two teams of two. Each player then receives 4 cards. Following an optional card exchange the four betting rounds begin (Biggest Bet and Smallest Bet, Pairs Bet and Game or Points Bet). During the game, the players have the opportunity to communicate with their team mate by using a number of set gestures. With regard to the betting, the players have the opportunity to raise, see or fold. The winners of the individual bets are shown following the last bet.

The aim of the game is to reach 40 points. The game is over as soon as one of the teams reaches this target.
Mus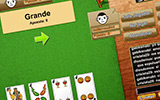 Category:

Card Games

Players:

4

Duration:

~ 16 min.