French Tarot
French Tarot is a challenging card game which requires players to exercise great skill and tactical play. Played since the middle ages, it is often referred to as "the game of kings". It is intended for 4 players and uses a deck of 78 cards. Along with the 4 classic suits (Hearts, Diamonds, Clubs and Spades), there are 21 numbered trump cards - with the 21 being the highest trump card and 1 the lowest - and 1 special "Excuse" (or "Fool") card.

French Tarot is a team game that also features "lone fighter" or solo game elements. An individual can play against a team formed by the other three players for the trick. The tables can turn in the next round, as the solo player becomes a part of the team and one of the former team members becomes the solo player.

And a point worth noting: Tarot was mentioned in Italian scripts originating from the 15th century!


Aims of the game


Take as many tricks as possible to win the game.
Get as many Oudlers in the tricks won as possible.
The declarer aims to score as many points as set in the contract. Opponents attempt to prevent the declarer from reaching his/her goal.
French Tarot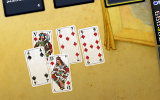 Category:

Card Games

Players:

3

Duration:

~ 5 min.