Canasta
Canasta is a card game for two players. The aim of the game is to score as many points as possible. Before the game begins, a points target is set. The player to reach this target first wins the game.

Jokers and 2s are Wildcards and can be used to replace any other card. Black 3s are Stopper Cards and red 3s are Premium Cards.

The sequence of the game is as follows: A player takes a card from the deck or the discard pile, lays a meld (group) if possible and then discards an unwanted card on the discard pile. A meld must consist of at least three like cards. A particular point value is required for the first meld laid by a player – this depends on the total points won so far. The players also have the opportunity to "buy" the discard pile.

Once the round has been completed, the scores are calculated. In accordance with the point system, the cards laid are worth a certain number of positive points. The cards still held by the player at the end of a game are worth negative points.

Canasta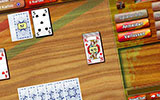 Category:

Card Games

Players:

2 - 4

Duration:

~ 21 min.