The results of our Spring Competition
Every day from 8th to 14th April, a blossom bearing a letter was hidden somewhere at StarGames. Put together, the letters formed a word: the destination of the main prize!

The 9 runners-up also picked up cool prizes: 3 pairs of Ray Ban Aviator sunglasses and 6x €150 of Bonus Money!

The word we were looking for was: MADEIRA

1st Place: Jutta F.
2nd - 4th Place: Thomas W., Thomas S., Thomas L.
5th - 10th Place: Andre K., Sandra P., Matthias K., Marion H., Bernhard W., Rithes B.

Rearrange the stones, watch them magically disappear and pick up points.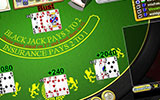 21 is the magic number. Play smart to win!